Learn More, Do More – Come see NeoSystems at Insight!
September 25, 2013 | BY: NeoSystems
In today's challenging environment with sequestration and the debt-ceiling showdown, Deltek's Enterprise Resource Planning systems and associated products are more important than ever.  Government contractors and professional services firms need to have superb back office practices in order to best evaluate opportunities, pursue business wisely, perform flawlessly, and comply with all regulatory requirements.  Yes, the Government can shutdown, but contractors still need to meet all the regulatory requirements – no furlough from compliance.
NeoSystems will be leading or co-presenting eleven Deltek Insight education sessions, which help professionals gain continuing education credit and deepen their operational expertise by learning best practices.  Conference attendees repeatedly find the conference helps ensure better compliance, better financial management, improved efficiencies in their accounting operations and a more thorough enterprise-wide view of their business.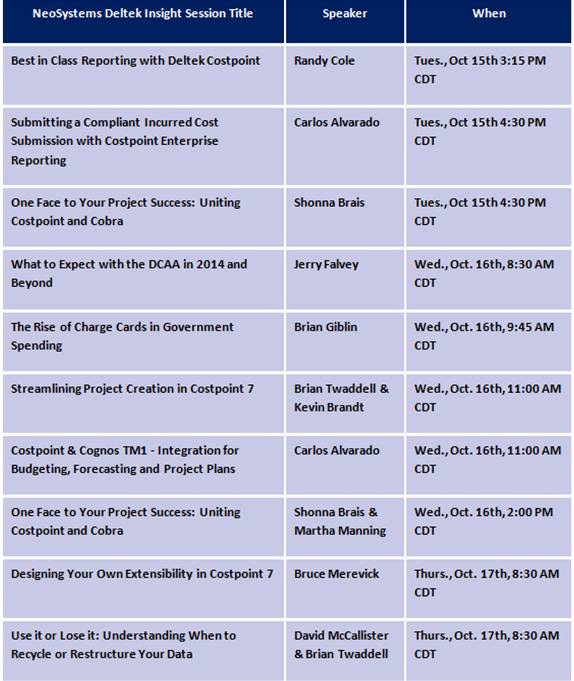 If you can't make a particular session, please visit NeoSystems at our exhibit Booth 18 during the conference. To learn more about the NeoSystems' presentations and the professionals who will be presenting at Insight 2013, please check back to our blog over the next couple of weeks.  We will be posting updates and additional content so that you might make the most of Insight this year.