Government contracting is a complex game with rules like FAR, DFARS, and CAS constantly changing. Compliance is a must, but it doesn't mean you need in-house everything.
Download the resource "5 Key Benefits of Outsourced Accounting for Government Contractors"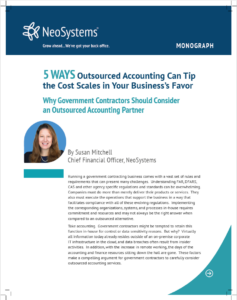 Expertise: Access seasoned professionals in government contracting.
People: No recruitment hassles—get a dedicated team.
Scalability: Adjust resources as your business demands.
Tools and Tech: Stay efficient with cutting-edge tools.
Risk & Compliance: Mitigate risks with compliance experts.