Workday Adaptive Planning
Designed for business users and accessible from anywhere, this CPM software solution helps companies visualize performance, plan effectively, and monitor results.
Everybody Plans. Workday Adaptive Planning Makes Planning Easy.

Easy
Collaborative - so you can coordinate and plan as a team.

Powerful
Comprehensive - model anything, analyze everything.

Fast
Continuous - ongoing forecasts, adapts quickly to change
Contact Us Today

NeoSystems is proud to be a Workday Adaptive Planning partner (formerly Adaptive Insights). With years of experience and expertise within the federal contracting sector, our team of Workday Adaptive Planning consultants can help your organization develop the budgeting and reporting insights you need to streamline planning and fuel your growth.
From Workday Adaptive Planning consulting services to integrations, contact our experts today for more information.
Contact NeoSystems to Learn More
Workday Adaptive Planning: Adaptive Planning Solutions
Shorten Cycle Times and Engage Business Users with Intuitive Budgeting, Forecasting, and Planning Software
Rescue your budgeting, planning, and forecasting from slow and painful manual processes with planning software for finance teams proven to improve productivity by more than 70%.
Integrate revenue and expense planning, use rolling forecasts, and analyze performance for optimized business intelligence. Enjoy the benefits of using a cloud-based planning system and work the way you want to work – on the web, in Excel, or mobile.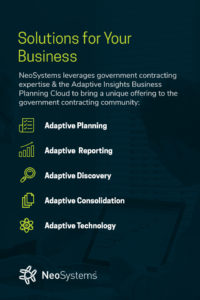 Reporting
Access Easy-to-Use Management and Financial Reporting Software—All in the Cloud
Empower finance teams and managers with intuitive and interactive self-service reporting and financial analysis. Distribute board reports, slice and dice management and financial reports, and drill down into the details with speed and ease.
Discovery
Monitor Your Business Performance with Finance and Operations Dashboard Software Built for the Cloud
Intuitive finance dashboards and data visualization improve agility, spur change, and drive better performance. Shape business outcomes by knowing financial, sales, and operational performance faster.
Drive Better Performance Today
Consolidation
Automate and Accelerate Your Financial Consolidation—in the Cloud
Designed for accounting, Consolidation speeds up your financial close with real-time financial consolidation and intercompany eliminations. Automate currency translations, reclassifications, and reporting for faster, more accurate consolidation, close, and reporting cycles.
Technology
Experience Modern Cloud Technology Built for Speed, Scale, Mobility, and Collaboration
The Workday Adaptive Planning Technology Foundation powers the Suite. At its heart is an in-memory planning and analysis engine that enables instantaneous calculations. Workflow and business process tracking allows teams to collaborate in real time. And our Workday Adaptive Planning Integration framework provides always-connected integration with your ERP, CRM, and HCM systems.
Workday Adaptive Planning For GovCons
NeoSystems leverages government contracting expertise and Workday Adaptive Planning to bring a unique offering to the government contracting community. CFOs and Project Managers can utilize an active planning process that results in better business planning as data is automatically updated and recalculated. Government Contractors can take advantage of a direct integration with Deltek Costpoint for both organizational and project budgeting models to forecast, track and analyze contract information including:
Labor cost calculations
Indirect and forward pricing rates
Capital expenditures, depreciation and amortization
Nested allocations
Subcontractor and consultant planning
GL costs for pools, service centers and unallowables
Indirect resource labor planning
Ready to make the move? From Workday Adaptive Planning consulting, to integrations, to hosting and more, contact our team to get the process started today.
Contact NeoSystems
Workday Adaptive Planning Consulting & Support Services
NeoSystems, a Workday Adaptive Planning partner, also offers consulting, world-class software and scalable solutions for government contractors and commercial businesses. Our Workday Adaptive Planning support services include:
Workday Adaptive Planning implementations
Workday Adaptive Planning integrations
Workday Adaptive Planning hosting
What Our Clients Say
We have been a client of NeoSystems since 2008, and I can say without reservation, I would highly recommend NeoSystems for Managed Accounting Services.
Dan Robinson, President and COO, Pluribus
With NeoSystems' help, we've made significant strides in our journey of becoming a world-class firm while simultaneously growing revenue.
Roby Luna, President, Aretec
NeoSystems was very dedicated to the job, dedicated to keeping the people there, and dedicated to our success. Michael's mantra of 'Our success is predicated on your success' is pretty powerful…
Philip Koos, Partner, Forensic Services, PwC
NeoSystems gave us a renewed sense of partnership. The attitude is 'we're going to figure out a way to get it done', and I can't tell you how priceless that is.
Elissa Passiment, Executive VP, American Society for Clinical Laboratory Science
NeoSystems was the perfect choice for us!
Babs Doherty, President & CEO, Eagle Ray, Inc.
Make the Move
Contact NeoSystems, a Workday Adaptive Planning partner, today to schedule a product demonstration or learn more about how Workday Adaptive Planning shorten your budgeting process from months into weeks.