Get Your Back Office and Cybersecurity Up to Par at National 8(a) Conference in Anchorage
June 01, 2023 | BY: Don Carnevale
01We are proud to announce that NeoSystems is a Platinum and Golf Tournament Sponsor and exhibitor at the National 8(a) Association 2023 Alaska Regional Conference and Golf Tournament Fundraiser hosted at the Anchorage Marriott Downtown on June 12-15 in the beautiful capital of Alaska. While the exciting golf tournament will be a one-day affair, the larger four-day conference will provide local Alaska Native businesses with the opportunity to connect with leaders in the tech industry and to learn from their insights.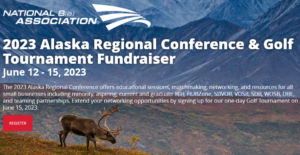 We encourage you to stop by our exhibition table and speak with our experts on how your organization can maintain compliance with all the upcoming cybersecurity standards and regulations. Stay ahead of the curve and leverage our expert knowledge and comprehensive security consultation services. We specialize in getting businesses up to par with their compliance as quickly and affordably as possible. We can help Alaska Native Corporations (ANCs) achieve compliance and maintain compliance with an affordable, accelerate path to CMMC compliance.
If you are unable to stop by our table during the conference, don't worry, you can still gain important insights into the government contracting world. Our CMO, Stuart Itkin, is presenting an educational pre-intensive session on June 12 from 2:45 pm to 4:15pm, entitled:  The Impact of Recent and Pending Cybersecurity Regulation on 8(a) Organizations and Strategies to Affordably Achieve and Maintain Compliance. As the title suggests, this session will break down exactly what contractors and other organizations working in the defense industry can expect in the upcoming year and beyond. We won't just help you achieve complete compliance with these cybersecurity standards, we will explain how you can maintain it in the long run.
We also offer comprehensive back office services for small and growing businesses. Whether you need assistance with accounting, HR or IT services, we can help. And let's not forget about our professional services team that can get your Deltek Costpoint system optimized and extended.
We are honored to be a part of this fun and engaging event and are proud to support the many organizations in Alaska with important industry connections. We are happy to chip in when it comes to the success of small businesses. See you on the green.