Here We Go Again…Deltek ProjectCon 2022
November 01, 2022 | BY: Don Carnevale
It's been three long years since Deltek clients, staff and partners gathered in person for three full days of sessions, keynotes, and special events. This is Deltek ProjectCon. I have been attending Deltek user conferences on and off since 2005. While the venues and agendas have changed over the years, Deltek ProjectCon (formerly Deltek Insight) has always held a special place in the hearts of those who attended.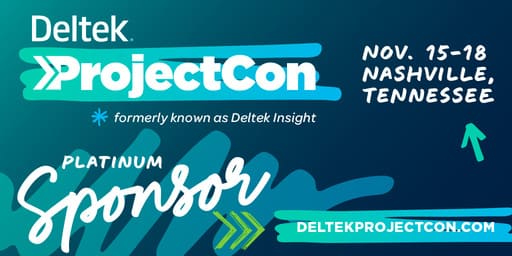 The days at Deltek ProjectCon are long, often beginning before 8:00am and lasting past midnight. Most people will walk 20,000 to 25,000 steps a day as they make their way between their hotel room, sessions, keynote ballroom, XPO hall, meals, special events and more each day. We at NeoSystems are incredibly excited to be back at Deltek ProjectCon as a Platinum sponsor. There's no better way to reconnect with clients, meet new Deltek users, exchange notes with other partners and meet, greet and eat with members of the Deltek team. And here's a special treat: we will have a Game of Thrones theme at our XPO hall booth (booth 8) and our special events so if you're attending Deltek ProjectCon, make sure to stop by and see for yourself.
We have several great ways attendees can interact with us this year at Deltek ProjectCon. Neo staff are participating in five different sessions at Deltek ProjectCon:
Planning for Planning (Nov. 16, 10:20am) – Kathleen Huckle
Managing CMMC: Strategies for Project-Based Businesses (Nov. 16, 3:20pm) – Ed Bassett, Greg Powers
Managing CMMC: Strategies for Project-Based Businesses (Nov. 17, 1:00pm – in XPO Hall) – Ed Bassett, Greg Powers
Tips on Navigating Government Contracts Compliance (Nov. 17, 2:00pm) – Marty Herbert
Survivor: GovCon Audit Edition (Nov. 17, 4:30pm) – Marty Herbert
In addition, we are hosting breakfast and lunch flash sessions in our suite at the Gaylord Opryland Resort and Hotel. You can register for one or all these sessions and meals will be provided as part of the session.
And as always, we will also have fun for everyone in the XPO Hall (booth 8). You can spin our prize wheel for the chance to win cool swag, interact with Neo staff and even get your picture taken with some special guests. And of course, no Deltek ProjectCon would be complete without our famous After Dark Party which is taking place on November 16 at 7pm, immediately following the XPO reception. Contact your NeoSystems Account Executive or consultant for more details.
We can't wait to see everyone at Deltek ProjectCon 2022. Visit us in our booth, at our flash events and speaker sessions, as well as our After Dark Party so we can catch up. See you in Nashville on November 15-18!