NeoSystems Officially Opens New Managed Accounting Services and IT Operations Center in Orlando, FL
Grand Opening Ribbon Cutting Ceremony with New High Value Job Employees Held September 28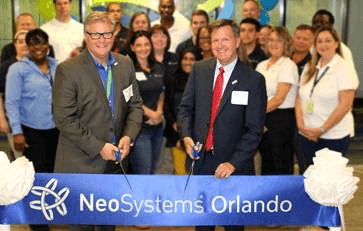 ORLANDO, FL. (September 28, 2015) On September 28, 2015, NeoSystems Corporate Services, a leading high technology enabled professional services company specializing in business process outsourcing (BPO) of integrated accounting/finance, HR, and IT functions, officially opened the doors to its new Orlando center in a Grand Opening Ribbon Cutting Ceremony.  In attendance at the ceremony were 40 NeoSystems employees, the Orlando Economic Development Commission and University of Central Florida executives.
Headquartered in Tyson's Corner, Virginia, NeoSystems' new expansion site is located in the High Tech Corridor of Orange County.   It is the company's first-ever Managed Accounting Services (MAS) and IT Operations Center in Orange County.
"After announcing our intent to create a new hub of high value accounting and IT jobs this January, we are thrilled to officially open our first-ever Managed Accounting Services (MAS) and IT Operations Center in Orlando, Florida.  NeoSystems' MAS and IT Operations Center location is growing and already supports vital back office functions, including accounting, finance, budgeting, IT, and HR services for our clients across the country," said NeoSystems founder, President, and CEO Michael Tinsley.
As part of its commitment to Orange County and the Orlando community, NeoSystems has hired more than 20 net new employees in eight months, since January 2015.  That hiring represents over 50% of the total opportunities promised to the State of Florida in the first 3 years.  Much of this recruiting success is a result of NeoSystems' strong partnership with the University of Central Florida (UCF) Office of Experiential Learning.
"We're excited to see NeoSystems Corporate Services open their office and begin operations in Orlando," said Rick Weddle, Orlando Economic Development Commission (EDC) President and CEO. "This expansion highlights the phenomenal growth we've seen in advanced business services in the region and we wish NeoSystems much success."
NeoSystems' MAS and IT Operations Center is already serving a critical business-to-business enabling role for U.S. companies nationwide; performing highly specialized accounting functions and IT services for NeoSystems clients. The company plans to invest a total of nearly $1 million in capital investment, training and development, employees, and partnerships with University of Central Florida and other local organizations.
In attendance at the Grand Opening Ribbon Cutting Ceremony was NeoSystems Corp founder, President and CEO, Michael Tinsley; Co-founder, COO and University of Central Florida Alumni Rob Wilson; OEDC Director of Business Development, Tracy Turk; and UCF Director for Experiential Learning, Ulla Isaac.
About NeoSystems Corporate Services
NeoSystems, based in Tyson's Corner, Virginia, delivers strategic back office services and solutions for commercial entities, government contractors, and nonprofit organizations. Today, NeoSystems supports 700 companies and over 50,000 employees with its BPO services and NeoSystems' experts have implemented hundreds of fully integrated financial and business management systems.  Utilizing best of breed technology and leveraging in-depth expertise in Accounting & Finance, Human Capital Management, Hosting (SOC1/SOC2), and Information Technology, our team enables companies to improve vital operations, reduce their overhead costs and become compliant with complex requirements. We enable our clients to grow, become more profitable, efficient, and better equipped to win new business.  NeoSystems is partnered with the world's leading software companies, including NetSuite, Deltek, Ultimate Software, IBM, , Integrify, Amazon Web Services, and others to provide best-in-class ERP, HR, IT, and business solutions. For the sixth year in a row, NeoSystems has been named one of America's fastest growing private companies by Inc. Magazine. For more information, visit www.neosystemscorp.com.
###
AGENCY CONTACT: 
Nancy Rose Senich
+1-202-262-6996
nancy@rose4results.com