Recruiting to Win That Contract
May 26, 2015 | BY: NeoSystems
In our recent webinar, 'Recruiting to Win', part of our Positioning to Win Series, Chris Maslyn and I discussed the importance of recruiting as it pertains to winning work and helping emerging government contractors grow. To increase the probability of a win, companies need to recruit early, effectively, and strategically. The following timeline provides a good overview of what the recruiting process should look like for a typical proposal: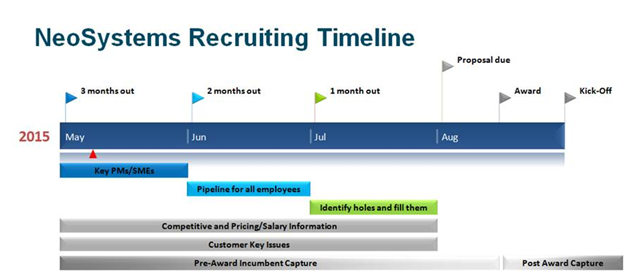 In addition to knowing when to start looking for candidates, it's also important to know where to look. Chris and I provided a list of sources that companies can use to find candidates including, job boards, social media sites like LinkedIn, employee and candidate referrals, job fairs, etc. We also discussed how to effectively market to the candidate pool in order to attract and close top tier talent. This entails providing sizzle about the company, conveying the importance of the projects' "mission", and writing good position descriptions.
Once the candidates are sold on the company and the opportunity, it's important to work quickly to close them by getting the paperwork in place ASAP. Whether the proposal requires just a Letter of Intent, or a full blown Contingent Offer, it's critical to get the candidates signature in a timely manner in order to avoid losing them to the competition.
Chris and I also touched on some of the information companies can get from candidates that can help with the proposal. This includes pricing info that can be extracted from candidates salary requirements as well as information about the government customer since many of the candidates will have spent time working with that customer. Companies that do a good job of collecting this information, especially the pricing info, mitigate the risk of underbidding which can lead to a slew of problems down the road.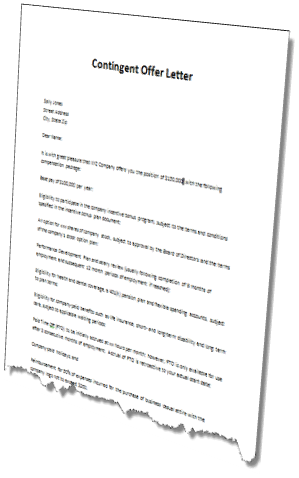 In summary, we recommend the following approach:
Start recruiting early
Utilize multiple sources
Effectively close candidates
Manage closed candidates
Base pricing on candidates salary requirements.
Work fast to get the necessary paperwork in place
Let candidates know it's okay to sign with multiple organizations
Collect Signed Letter of Intent or Contingent Offer Letter early on
How to Manage Candidates:
Remain engaged
Keep them involved
Utilize them as a source of competitive information:
What other companies are recruiting them for the project
Knowledge about the customer that can be used in the proposal
Let them help you recruit
Chris and I hope that we were able to provide a good overview of what it takes to recruit effectively in today's price competitive government contracting market. We covered when, where, and how to recruit. We also laid out how recruiting should affect pricing in order to avoid the pitfalls of underbidding. Companies that successfully incorporate these recruiting strategies into their bid & proposal process should see increased win percentages and smoother execution post award.
For more information on our recruiting expertise, feel free to contact me. bpariroo@neosystemscorp.com