Surf's Up at the 2023 NHOA Small Business Summit in Honolulu on April 18 and 19
April 06, 2023 | BY: Don Carnevale
Aloha. We are proud to announce that NeoSystems is a Gold Sponsor and exhibitor at the 2023 Native Hawaiian Organizations Association (NHOA) Small Business Summit in beautiful Honolulu,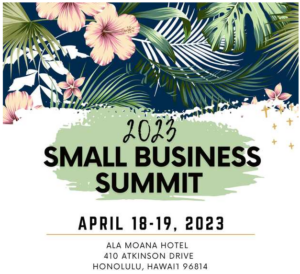 Hawaii. We're honored to be supporting the members of the Native Hawaiian Organization Association during this two-day summit and look forward to seeing attendees, exhibitors and our gracious NHOA hosts at the Ala Moana Hotel, 410 Atkinson Dr. in the downtown area.
Join us for the pre-conference evening reception on April 17 that NeoSystems is co-sponsoring along with NHOA. And, visit us at our booth where we will giving away cool swag and raffling off a bottle of top-shelf bourbon each day. Connect with our team at the reception or at our booth to find out if your organization is ready to meet the upcoming, exacting standards of the Cybersecurity Maturity Model Certification (CMMC) and learn how NeoSystems can help you on this journey to achieve AND maintain compliance.
We're also excited to have our Vice President, Stuart Itkin, present two sessions during the summit.
Session 1- April 18, 2:30 to 3:30pm, at the Plumeria Room
Simplifying the Path (and Reducing the Cost) to CMMC Compliance
In this session, we will explore the risks and costs associated with the conventional path towards achieving compliance. We offer an alternative path which leverages cloud services, managed service providers, and vetted reference architectures. This will allow native organizations to meet CMMC requirements in less time, with lower one-time and on-going operational costs, and without the need for specialized resources.
Session 2 – April 19, 3:15 to 4:15pm, at the Hibiscus Ballroom
How the National Cybersecurity Strategy, CMMC and Enforcement will Affect Hawaiian Businesses
Published in March 2023, the National Cyber Security Strategy, which promises a safe and secure digital ecosystem for all Americans, places responsibilities on both the public and private sectors. The forthcoming Cybersecurity Maturity Model Certification (CMMC) and its requirements seek to establish a unified standard across government and will ultimately trickle down to the private sector. This session will summarize these key initiatives, as well as enforcement of existing requirements, and how they will affect Hawaiian businesses.
We are excited and honored to be a part of this great educational and networking event that supports Native Hawaiian organizations navigate and succeed in the ever-increasingly complex world of cybersecurity and compliance in the government contracting market.
See you there, Aloha.