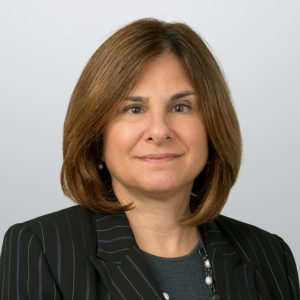 Mary Beth Bosco is an attorney in Holland & Knight's Washington, D.C., office. She has more than 30 years of experience working with new and experienced government contractors, and focuses her practice on advising such organizations in contract and regulatory compliance, transactional matters, and entering and navigating the federal marketplace.
A substantial portion of Ms. Bosco's practice focuses on compliance matters and transactional work. With a background in regulatory matters and litigation, Ms. Bosco counsels clients on the drafting of procurement manuals, and the development and implementation of compliance and training programs. In this connection, she has performed numerous audits of contractor compliance systems and policies. Ms. Bosco, who has a vast knowledge on government contract subject matter, represents companies, financial institutions and investment funds in connection with acquisitions, investments and credit facilities involving government contractors.
Ms. Bosco also devotes a significant amount of time to bid protests before the General Accountability Office (GAO), the U.S. Court of Federal Claims and U.S. Court of Appeals for the Federal Circuit. Ms. Bosco has led the response and defense of complex concurrent agency and congressional investigations. She has also advised clients in investigations involving Inspectors General and the U.S. Department of Justice with respect to the False Claims Act, other fraud investigations and whistleblower actions. She has handled voluntary disclosures for clients, and responded to government audits, including those by the Defense Contract Audit Agency, for both contractors and grant recipients. She represents numerous nonprofit organizations receiving federal grant money.
Beyond her law practice, Ms. Bosco regularly writes and speaks on a range of cybersecurity and other issues.