Where's the Money in Federal Contract Awards?
June 29, 2015 | BY: NeoSystems
We hear people talk about Federal spending is down. But I'm one of those people who likes to see if the data matches what everybody says.  Is it really down?  Are all agencies seeing cuts?  If not, where is the new money going?
FY14 Federal Contract Awards
Looking first at overall Federal Contract obligations in FY14, we see the Federal Government awarded a total of $445B – down 4% from FY13 (See Figure 1).  So, first glance, yep, it's down.  But let's take a closer look.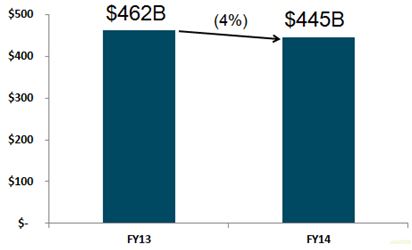 In conversation, I was reminded by a good friend that the "Overseas Contingency Operations" (OCO) reductions are far more than the total decline we see in total obligations.  Throw in the drop in oil prices for the latter part of last year, and this decrease might not really be a decrease in spending from the perspective of the typical Government Contractor, particularly for those that serve the DoD.
So, how did the DoD fair, which make up the lion's-share of the Federal awards?  Taking a closer look at the DoD obligations – there was $285B in awards.  Obligations for DoD in FY14 were down $24B or 8% compared to FY13.  Looking at all other contract awards, which totaled $160B, we see non-DoD contract dollars awarded increased by $6B or 4% in FY14 over FY13 (See Figure 2).  Who were the winners and the losers?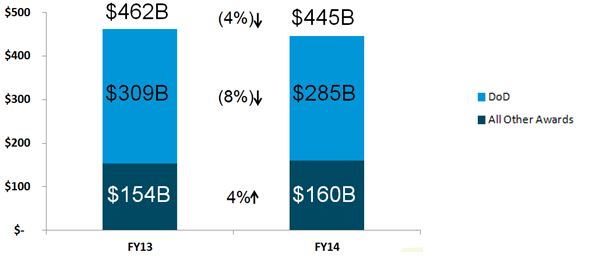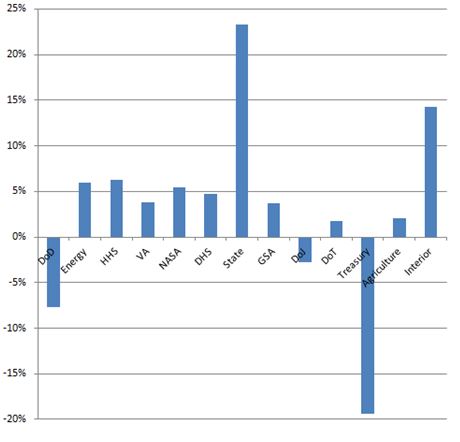 Ranking the Departments in order of total awards (highest to lowest), when we look at the next 7 largest depts (i.e., DoE, HHS, VA, NASA, DHS, State, and GSA) they are all up – typically 4-6% – State Dept even more (See Figure 3).  So, to many, FY2014 will be the year things started picking up a little or at least stopped shrinking.
Next, I think I'll take a look at Contract Award types and see what that tells us.