Printing in Costpoint 7 – Part 2
March 06, 2013 | BY: NeoSystems
Earlier this week I introduced Costpoint 7's new printing capabilities at a high level. Now, let's dive into some specifics within each function. Remember, all of these options are available in the "Print Options" dialogue.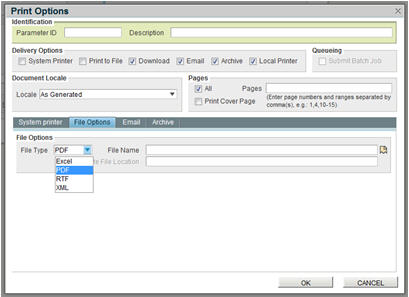 System Printer
This option allows you to send reports to a printer that has been set up to be shared by your administrator. Functions that are controlled (assuming your printer supports these features) include:
Duplex printing
Color printing
Collation
Number of copies
Print to File
This allows you to save a copy of the file in a document management system (such as SharePoint) or to a designated folder on your company's network. With this feature, you're able to choose a variety of file types, including:
With Costpoint 7's printing flexibility, Excel files are formatted like a report, not a data spreadsheet. And the RTF (Rich Text Format) file output can be read by any word processing software!
Download
With this feature, you can save files to your local computer instead of a document management system (providing the same options as "Print to File").
Email
Through this feature, you can email reports in one of the aforementioned formats to one or multiple people. Now, recipients know what they are receiving and what actions to take when inputting a subject or message in the email.
Archive
This special option allows report copies to be saved electronically in the database. The file can be saved permanently, automatically deleted after a few days, or by a specified date. can be accessed any time there's Costpoint admittance, regardless of location.
Local Printer
This last option illustrates how to print to your specified computer. When selected, the report appears as a PDF on your screen and can be sent to your printer or saved.
These options are not mutually exclusive, and can be selected simultaneously. Here's a typical scenario:
As a biller, you are responsible for preparing the invoices. These invoices must be approved by the Project Manager and filed in all the preferred places and ways that we accountants enjoy. By already setting up the "System Printer", "Email", "Archive", and saving the parameters in the system, Costpoint 7 makes the process as painless as possible.
Setting up invoices, saving the parameters, and using Job Manager to execute all desired jobs can now be done at home. While you're resting, the system is printing copies of your invoices (for storage in the billing files), emailing the invoices for approval, and archiving a copy so that it can be reprinted at a later date or to support an audit. This is a huge time saver for accountants and is sure to be one of the greatest benefits of Costpoint 7 that your team will find.