Extensibility Designer: The Game Changer
May 08, 2013 | BY: NeoSystems
Before Costpoint 7, users of the application were locked into a pre-defined layout and could not incorporate third-party data into their most critical back office system. If you wanted to analyze your Costpoint data against, let's say your benefits data, you had to perform a series of exports and run everything in Excel. But, with Extensibility Designer and Costpoint 7.0.1, the game has changed.
Extensibility Designer allows end-users to change the screens and functionality (to a certain extent) within Costpoint 7. Using a special set of editable parameters, you'll be able to add new data elements to screens, have them validated, and use them in either new edits or defaults. So, what are the rules?
You cannot change the base Costpoint 7 methods
Must add data changes and edits BEFORE the Costpoint method begins
Once the Costpoint Method begins, data changes are only allowed after the Method is completed
Now that you know the rules, let's take a look at exactly how everything plays out. The process begins with setting an end goal and gathering the necessary requirements. You'll want an in-depth review of how these requirements work with Costpoint to achieve that goal. From there, we'll be able to determine what extensions are needed. After the requirements have been documented, create a design document to use as a blueprint for the new extensibilities. Once you take care of these off-line procedures, you're ready to play ball with Extensibility Designer.
Since the extensibilities can be built on any Costpoint 7 deployment, the development can be completed, packaged, and tested remotely in either your test or development system. The packaging will load the extension tables, class files, stored procedures, jar files, and meta-data scripts. This package is complete and can serve as backup of the extensibility.
Once you're ready to go live, the extensibilities need to be deployed in CPADMIN and on top of the CPSYSTEM (core Costpoint 7 methods). The only issue I've run into is when new Core Functionality adds tabs like the new Manage Employee screen. I had to add another tab and move the extensibility fields to the last tab. But, all of the stored procedures and other Costpoint standard tab field changes were un-effected by the new hot fixes and service packs.
Before you go down that road, you'll want to make sure you've equipped all the necessary players with the tools they need to succeed in Extensibility Designer. Luckily, Deltek has made this process pretty easy.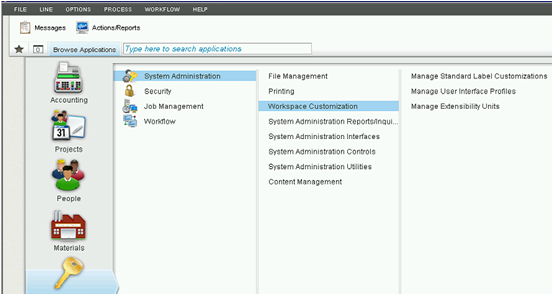 The Manage User Interface profiles will assign users or user groups to a profile, and the profile will be associated to an extensibility unit.
The Manage Extensibility unit will complete the association to profile and will show if the extensibility is Valid (Deployed for this Costpoint System) and Active. If an extensibility unit is not functioning correctly, the extensibility unit can be de-activated here.
Next time, I'll review some extensions I've created for clients so you can start brainstorming how Extensibility Designer can impact your own operations.